TESTIMONIAL
Some information has been blanked out for security purposes.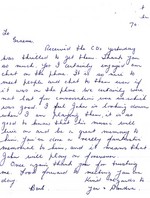 8th December 2005
Received from Hobart, Tasmania, Australia
To Graeme,
Received the CDs yesterday was thrilled to get them. Thank you so much. Yes I certainly enjoyed our chat on the phone. It is so nice to meet people and chat to them even if it was on the phone. We certainly were not lost for conversation were we which was good. I feel John is looking down when I am playing them, it is so good to know that his music will live on and be a great memory to him. You've done a really fantastic memorial to him, and it means that John will play on forever.
Once again thank you for trusting me . Look forward to meeting you one day.
Kind regards to you & Sandra.
Barb