TESTIMONIAL
Printed with permission. Some information may have been blanked out for security purposes.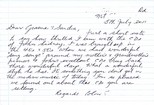 5th July 2011
From Brisbane, Queensland, Australia

Dear Graeme & Sandra,
Just a short note to say how thrilled I am with the CDs of John Sidney. I was brought up in the 40s & 50s when we had wonderful "sing songs" around my mother's & grandmother's pianos & John's excellent CDs bring back those wonderful days. What a wonderful style he has. It's something you don't get in the modern music of today. I'm so pleased we found out about his CDs you are selling.
Regards,
Colin ...