TESTIMONIAL
Some information has been blanked out for security purposes.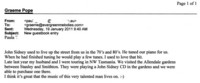 19th January 2011
From Hobart, Tasmania, Australia
John Sidney used to live up the street from us in the 70's and 80's. He tuned our piano for us. When he had finished tuning he would play a few tunes. I used to love that bit.
Late last year my husband and I were touring in Northwest Tasmania. We visited the Allendale Gardens between Stanley and Smithton . They were playing a John Sidney CD in the gardens and we were able to purchase one there.
I think it's great that the music of this very talented man lives on. :-)
Paula