TESTIMONIAL
Some information has been blanked out for security purposes.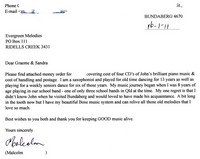 16th January 2011
From Bundaberg, Queensland, Australia
Dear Graeme and Sandra
Please find attached money order for $__.00 covering cost of four CD's of John's brilliant piano music & cost of handling and postage. I am a saxophonist and played for old time dancing for 13 years as well as playing for weekly seniors dance for six years. My music journey began when I was 8 years of age playing in our school band - one of only three school bands in QLD at the time. My one regret is that I didn't know John when he visited Bundaberg and would loved to have made his acquaintance. A bit long in the tooth now but I have my beautiful Bose music system and can relive all those old melodies that I love so much.
Best wishes to you both and thank you for keeping GOOD music alive.
Yours sincerely,
Malcolm