TESTIMONIAL
Some information has been blanked out for security purposes.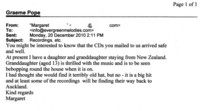 20th December 2010
From Hobart, Tasmania, Australia
You might be interested to know that the CDs you mailed to us arrived safe and well.
At present I have a daughter and granddaughter staying from New Zealand. Granddaughter (aged 13) is thrilled with the music and is to be seen bebopping round the house when it is on.
I had thought she would find it terribly old hat, but no - it is a big hit and at least some of the recordings will be finding their way back to Auckland.
Kind regards,
Margaret