TESTIMONIAL
Some information has been blanked out for security purposes.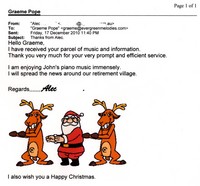 17th December 2010
From Melbourne, Victoria, Australia
Hello Graeme,
I have received your parcel of music and information. Thank you very much for your very prompt and efficient service.
I am enjoying John's piano music immensely. I will spead the news around our retirement village.
Regards,
Alec