TESTIMONIAL
Printed with permission. Some information has been blanked out for security purposes.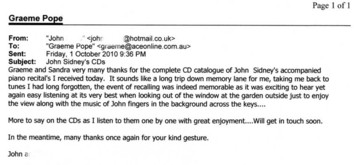 1st October 2010
From United Kingdom
Graeme and Sandra very many thanks for the complete CD catalogue of John Sidney's accompanied piano recital's I received today. It sounds like a long trip down memory lane for me, taking me back to tunes I had long forgotten, the event of recalling was indeed memorable as it was exciting to hear yet again easy listening at its very best when looking out of the window at the garden outside just to enjoy the view along with the music of John fingers in the background across the keys ...
More to say on the CDs as I listen to them one by one with great enjoyment ... Will get in touch soon.
In the meantime, many thanks once again for your kind gesture.
John ...