TESTIMONIAL
Printed with permission. Some information has been blanked out for security purposes.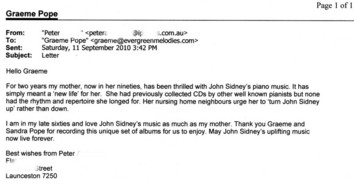 11th September 2010
From Launceston, Tasmania, Australia
Hello Graeme
For two years my mother, now in her nineties, has been thrilled with John Sidney's piano music. It has simply meant a 'new life' for her. She had previously collected CDs by other well known pianists but none had the rhythm and repertoire she longed for. Her nursing home neighbours urge her to 'turn John Sidney up' rather than down.
I am in my late sixties and love John Sidney's music as much as my mother. Thank you Graeme and Sandra Pope for recording this unique set of albums for us to enjoy. May John Sidney's uplifting music now live forever.
Best wishes from Peter A