TESTIMONIAL
Some information may have been blanked out for security purposes.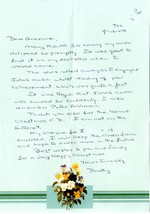 9th December 2008
From Hobart, Tasmania, Australia

Dear Graeme,
Many thanks for having my order delivered so promptly. It was great to find it on my doorstep when I arrived home.
The years rolled away as I enjoyed John's music whilst reading of your achievement which was quite a feat.
It was tragic that John's career was ended so suddenly. I also remember Peter Richman.
Thank you also for the bonus Christmas C.D. I am not on the internet.
My cheque for $.... is enclosed. I will keep the order form and hope to order more in the future.
Best wishes to you and Sandy for a very Happy Christmas.
Yours sincerely,
Dorothy ...