TESTIMONIAL
Some information has been blanked out for security purposes.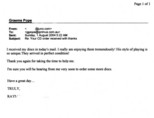 1st August 2004
From Ohio, USA
I received my discs in today's mail. I really am enjoying them tremendously! His style of playing is so unique. They arrived in perfect condition!
Thank you again for taking the time to help me ...
I'm sure you will be hearing from me very soon to order some more discs.
Have a great day ....
Truly,
Raymond