TESTIMONIAL:

Printed with permission. Some information has been blanked out for security purposes.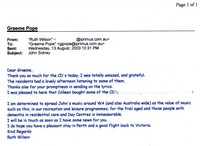 13th August 2003
Received from Perth, Western Australia
Dear Graeme,
Thank you so much for the CD's today, I was totally amazed, and grateful.
The residents had a lovely time listening to some of them.
Thanks also for your promptness in sending on the lyrics.
I was pleased ....
I am determined to spread John's music around WA (and also Australia wide) as the value of music such as this, in our recreation and leisure programmes, for the frail aged and those people with dementia in residential care and Day Centres is immeasurable.
I will be in touch as soon as I have some news for you.
I do hope you have a pleasant stay in Perth and a good flight back to Victoria.
Kind regards
Ruth Wilson
Diversional Therapist, Waminda Care Centre, Bentley, WA