TESTIMONIAL
Some information has been blanked out for security purposes.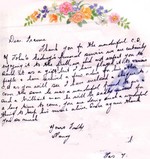 21st December 2002
From Hobart, Tasmania, Australia
Dear Graeme,
Thank you for the wonderful CD of John Sidney's funeral service. We are certainly enjoying it to the full. We did not expect you to send it to us as a gift, but I have played it to various people and have received a few orders for his other CDs as you will see I have enclosed a cheque to cover the same.
He was a wonderful friend to us and such a brilliant man. He will be sadley missed for a long time to come. You are doing such a wonderful thing to keep his music alive.
Once again, thank you so much.
Yours truly,
Nancy and Ian