TESTIMONIAL
Some information has been blanked out for security purposes.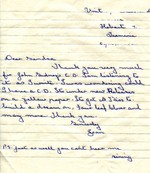 21st December 2002
From Hobart, Tasmania, Australia
Dear Sandra,
Thank you very much for John Sidney's CD. I am listening to it as I write.
I was wondering could I have a CD; it's under new releases on a yellow paper. Its got 'A Kiss To Build A Dream On', Four Leaf Clover' and many more.
Thank you.
Sincerely, Joan.