TESTIMONIAL
Some information has been blanked out for security purposes.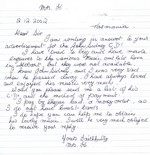 21st December 2002
From Hobart, Tasmania, Australia
Dear Sir,
I am writing in answer to your advertisement for the John Sidney CDs.
I have tried to buy and have made enquiries to the various music outlets here in Hobart, but they were not available.
I knew John Sidney and I was very sad when he passed away. I have always loved and enjoyed his music very much.
Would you please send me a list of his CDs and method of payment. I pay by cheque C.O.D or money order as I do not have credit cards.
I do hope you can help me to obtain his lovely music. I will be very much obliged to receive your reply.
Yours faithfully
Mrs K G......