JOHN SIDNEY - PIANIST EXTRAORDINAIRE
written by Ron Abel
10th December 2010
The following article appeared in the November 2010 edition of the Golden Days Radio (3GDR) newsletter, 'The Golden Broadcaster'. Ron Abel is a 3GDR presenter and has been playing John Sidney's piano numbers on his Wednesday evening program "Keyboard Cavalcade" since 2003.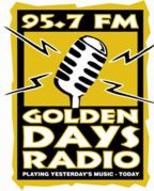 Golden Days Radio has a music format that has broad appeal for people who have an affection for the nostalgic sound of radio as it used to be heard from 1930-1960.
Soon Golden Days Radio will be streaming on the internet and will be accessible anywhere around the world where internet access is available. Evergreenmelodies will post a newsletter in the 'News & Views / EM NEWS' page when this service will be available.
The Article: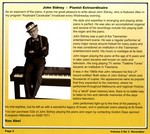 John Sidney – Pianist Extraordinaire
As an exponent of the piano, it gives me great pleasure to write about John Sidney, who is featured often in my program "Keyboard Cavalcade" broadcast every Wednesday evening.
His style and expertise in arranging and playing stride piano is perfect. He was also an accomplished organist and several of his recordings include him playing both the organ and the piano.
John Sidney was a part of the Tasmanian entertainment scene. He was a regular performer at every major venue around Hobart for many years and he was considered an institution in the Tasmanian entertainment world. His music is nostalgia at its best.
John began playing the piano at the age of 8 years and in later years became well known on radio and television. His long playing TV series "Teatime Tunes" became an institution in Tasmania.
It was in the 1960s that John released his first LP record entitled 'Both sides of John Sidney" which sold thousands of copies. His appearances were so popular that they expanded to the mainland, where he performed throughout Melbourne and regional Victoria.
For a "stroll" down memory lane, there is no better way to listen to him and rekindle memories of the days before television.
John performed right up to the time of his passing in his mid-eighties, but he left us with a wonderful legacy of music, and in particular piano playing at its finest.
You can purchase CDs of John Sidney playing the piano and organ by contacting Golden Days sponsor Evergreen Melodies on 5428 7071.
Ron Abel