THE JOHN SIDNEY COLLECTION
- boxed set of 12 piano music CDs
This wonderful collection of 12 piano music CDs in the special two box CD set - "Evergreen Melodies" by Australian pianist John Sidney pays tribute to a time when the piano was treasured entertainment and dancing and sing-a-longs were central to community life.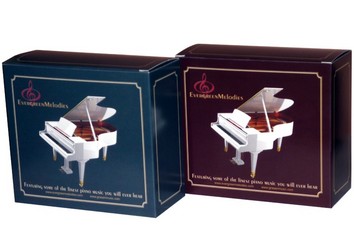 Like a precious time capsule, this unique collection comprises unforgettable old standards, sing-a-longs, ragtime rhythms and all your favourite evergreen melodies.
Although all CDs are recorded by the same artist you will find there is something for every mood or occassion. All are great listening. You will never tire of hearing this music time and time again.
Buy now for AU$188.00
Price includes FREE postage worldwide

BONUS: Purchase the boxed set of 12 John Sidney piano music CDs and receive Sunshine And Roses CD absolutely FREE. $10 from your purchase will be donated to the Friends Of Old Parliament Rose Gardens (FOPHRG).
Either BOX of 6 CDs can be purchased separately using ORDER OPTION 1 or ORDER OPTION 3
| | | |
| --- | --- | --- |
| ORDER OPTION 1 | ORDER OPTION 2 | ORDER OPTION 3 |
| Credit Card and Paypal Only | Credit Card, Money Order or Cheque | Credit Card, Money Order or Cheque |
| Full shopping cart with the ability to create and maintain a user account to keep track of all your orders. | Straight through order processing. No need to set up a user account. | Download an order form for offline completion and post/fax your order to us. |
| | | |
Sampling John Sidney's music.
Every song on every CD can be freely sampled in our online CD CATALOGUE or via each individual CD listed in our online shopping cart at www.grasanmusic.com . Click on any album cover to open that particular CDs' list of song titles then click on any song title to download a free MP3 music sample for your review.
Phone (03) 5428 7071
Mobile 0403 760 556
Fax (03) 5428 7090
email graeme@evergreenmelodies.com.au