Evergreenmelodies - a 3GDR (Golden Days Radio) sponsor
16th September 2010
Evergreenmelodies is a 3GDR sponsor advertising John Sidney's piano music on air three times a day.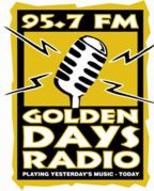 Golden Days Radio has a music format that has broad appeal for people who have an affection for the nostalgic sound of radio as it used to be heard from 1930-1960.
Presenter Ron Abel features John Sidney's piano music in his Wednesday evening 'Keyboard Cavalcade' programme.