This wonderful collection of 12 CDs in the special two box CD set - "Evergreen Melodies" by Australian pianist John Sidney pays tribute to a time when today's elderly were young. A time when the piano was treasured entertainment and dancing and sing-a-longs were central to community life.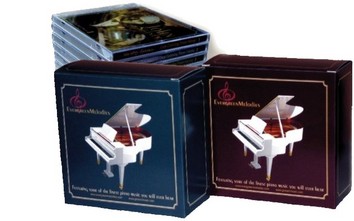 Like a precious time capsule, this unique collection contains musical memories by an artist whose repertoire of piano classics embraces great tunes, sing-a-longs and show stoppers as well as the relaxing evergreens.
For the people currently in residential aged care, the music of the early to mid 1900s is the most relevant as it evokes the most autobiographical, vivid and important memories.
Click here to read what diversional therapists say about John Sidney's music.
John's collection of easy listening solo piano music CDs make a wonderful addition to the music collection of any aged care facility. Although all CDs are recorded by the same artist there is something for every mood or occasion. All are great listening.
These quality studio solo piano performances are $19.95 per CD or the set of 12 CDs are available in two attractive boxes for $188 including postage.
ALL PRICES INCLUDE FREE POSTAGE AND HANDLING TO ANYWHERE IN THE WORLD!
Sampling John Sidney's music.
Every song on every CD can be freely sampled in our online CD CATALOGUE or via each individual CD listed in our online shopping cart at www.grasanmusic.com . Click on any album cover to open that particular CDs' list of song titles then click on any song title to download a free MP3 music sample for your review.
1. Click here to ORDER CDs online or
2. Download a

CD Order Form (100.61 Kb)
To enquire about a specially priced package for facilities within your organisation, please Contact Graeme Pope : phone (03) 5428 7071 or 0403 760 556, fax (03) 5428 7090, email graeme@evergreenmelodies.com