TESTIMONIAL
Some information has been blanked out for security purposes.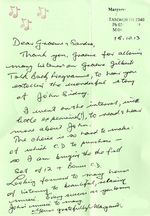 18th October 2013

From Tamworth, New South Wales, Australia
Dear Graeme & Sandra,
Thank you Graeme for allowing many listeners on Graeme Gilbert's Talk Back Programme, to hear you extolling the wonderful story of John Sidney.
I went on the internet, with little experience (!), to read and hear more about John.
The choice is so hard to make of which CD to purchase - so I am buying the full set of 12 + Bonus CD.
Looking forward to many hours of listening to beautiful, relaxing music. Every success as you bring John's music to many.
Yours gratefully,
Margaret F.....