TESTIMONIAL
Some information may have been blanked out for security purposes.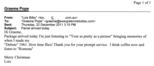 22nd December 2011
From Rosebery, New South Wales, Australia

Hi Graeme,
Package arrived today I'm just listening to "You're As Pretty As A Picture" bringing memories of when I made my "Debute" 1961. How time flies! Thank you for your prompt service. I think coffee now and listen to "Ramona" .
Merry Christmas
Lois ...