TESTIMONIAL
Some information may have been blanked out for security purposes.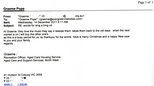 14th December2011
From Coburg, Victoria, Australia

Hi Graeme they love the music they say it relaxes them takes them back to the old days when the next market is on I will buy the other one's as this is a busy period for us so thank you for the words have a merry Christmas and a happy New-year to you and your family.
Regards Graeme ...
Recreation Officer, Aged Care Housing Service Aged Care and Support Services,
North West ...