TESTIMONIAL
Published with permission. Some information may have been blanked out for security purposes.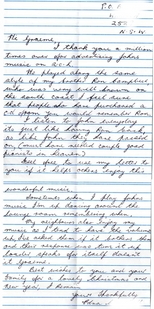 5th December 2011
From Warilla, New South Wales, Australia

Hi Graeme,
I thank you a million times over for advertising John's music on 2CH.
He played along the same style of my brother Ron Campbell, who was very well known on the South Coast, I feel sure that people who have purchased a CD from you would remember Ron.
I listen to John every day it's just like having Ron back, as like John they have passed on, (must have needed couple good pianists in heaven).
Feel free to use my letter to you if it helps others enjoy this wonderful music. Sometimes when I play John's music I'm up dancing around the lounge room remembering when.
My neighbours also enjoy my music as I tend to have the volume up. I've asked them if it bothers them and their response was turn it up louder, speaks for itself doesn't it Graeme.
Best wishes to you and your family for a lovely Christmas and New Year,
I remain Yours Thankfully,
Edna