TESTIMONIAL
Some information may have been blanked out for security purposes.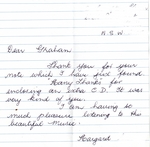 07th October 2011
From Sydney, New South Wales, Australia

Dear Graeme
Thank you for your note which I have just found.
"Many Thanks" for enclosing an extra CD. It was very kind of you.
I am having so much pleasure listening to this beautiful music.
Margaret ...