TESTIMONIAL
Some information has been blanked out for security purposes.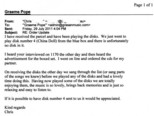 29th July 2011
From Sydney, New South Wales, Australia
I have received the parcel and have been playing the disks. We just went to play disk number 4 (China Doll) from the blue box and there is unfortunately no disk in it.
I heard your interview on 1170 the other day and then heard the advertisement for the boxed set. I went on line and ordered the CDs for my partner.
On receiving the disks the other day we sang through the list (or sang parts of the songs we knew) before we played any of the disks and had a lovely time doing this. Having now played some of the disks we are totally enjoying them, the music is so lovely, brings back memories and is just so relaxing and easy to listen to.
If it is possible to have disk number 4 sent to us it would be appreciated.
Kind regards,
Chris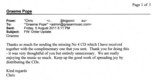 5th August 2011

Graeme
Thanks so much for sending the missing No 4 CD which I have received with the complimentary one you sent. Thank you for doing this - it was very thoughtful of you but entirely unnecessary. We are really enjoying the music so much. Keep up the good work of spreading joy by distributing the CDs.
Kind regards,
Chris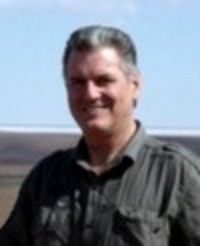 In the early days when marketing John Sidney's music I burnt the CDs on a computer at home to fulfill orders and occassionally I'd inadvertently send a CD out with no CD in the case. Due to the increased demand for John's music I had no choice but to have the CDs professionally replicated. This I did July last year (2010) and I was surprised to find a replicated CD missing from a case. We have sold several thousands of John's CDs since and this would be the first and only occurance of a missing CD. Needless to say we like to look after our customers and compensate them for any inconvenience caused by including an additional free CD for their trouble.