TESTIMONIAL
Some information may have been blanked out for security purposes.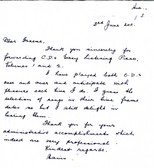 3rd June 2011
From Melbourne, Victoria, Australia

Dear Graeme,
Thank you sincerely for forwarding CDs Easy Listening Piano Volimes 1 and 2.
I have played both CDs over and over and anticipate with pleasure each time I do. I guess the selection of songs in their time frame dates me but I still delight in hearing them.
Thank you for your administrative accomplishments which indeed are very professional.
Kindest Regards,
Mavis ...