TESTIMONIAL
Some information has been blanked out for security purposes.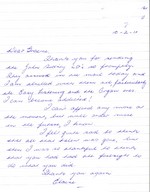 10th February 2011
From Hobart, Tasmania, Australia
Dear Graeme,
Thank you for sending the John Sidney CDs so promptly. They arrived in the mail today and I am thrilled with them all, particularly the Easy Listening and the Organ ones. I can become addicted!
I can't afford any more at the moment but will order more in the future I know.
I felt quite sad to think that all that talent was gone, but then I was so thankful to think that you had had the foresight to do what you did .
Thank you again.
Elaine ...