TESTIMONIAL
Printed with permission. Some information has been blanked out for security purposes.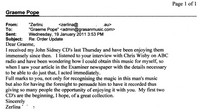 19th January 2011
From Launceston, Tasmania, Australia
Dear Graeme,
I received my John Sidney CD's last Thursday and have been enjoying them immensely since then. I listened to your interview with Chris Wisby on ABC radio and have been wondering how I could obtain this music for myself, so when I saw your article in the Examiner newspaper with the details necessary to be able to do just that, I acted immediately.
Full marks to you, not only for recognising the magic in this man's music but also for having the foresight to persuade him to have it recorded thus giving so many people the oportunity of enjoying it with you. My first two CD's are the beginning, I hope, of a great collection.
Sincerely
Zerlina ...