TESTIMONIAL
Printed with permission. Some information has been blanked out for security purposes.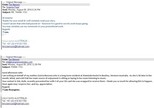 9th August 2010
From Perth, Western Australia
(Email 2)

Hi Graeme
Thanks for your email & I will certainly read your story .
I wasn't aware that John had passed on - however it is good to see his work keeps going.
You may certainly use my comments in your promotional work.
Regards,
Tim
(Email 1)

Good afternoon John
I am writing on behalf of my mother (Sylvia Benson) who is a long-term resident at Waminda Hostel in Bentley, Western Australia. As she is 92 later in the month, blind, and a bit frail her main source of enjoyment is sitting or laying in her room listening to music.
Your contact in WA, Ruth, recently presented her with 3 of your CDs and she was wrapped to receive them - thank you so much for allowing this to happen. Once again may I express her, and my, appreciation.
Regards,
Tim