TESTIMONIAL
Printed with permission. Some information has been blanked out for security purposes.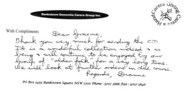 18th August 2005

From Bankstown (Sydney), NSW, Australia
Dear Graeme,
Thank you yery much for sending the CD. It is a wonderful collection indeed & is being played & will continue to be enjoyed by our group of "older folk" for a very long time. We will look at further orders in due course.
Regards, Dianne ...