TESTIMONIAL:
Printed with permission.
10th May 2004
Received from Melbourne, Victoria, Australia
Little Sisters of the Poor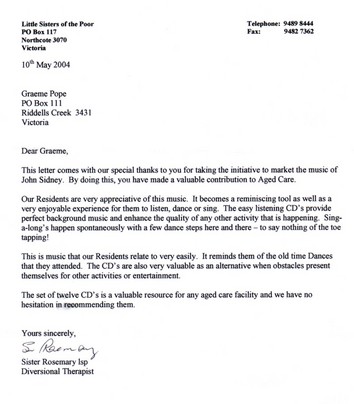 PO Box 117 Northcote Victoria 3070 Telephone: 9489 8444 Fax: 9482 7362
10th May 2004
Graeme Pope PO Box 111 Riddells Creek Victoria 3431
Dear Graeme,
This letter comes with our special thanks to you for taking the initiative to market the music of John Sidney. By doing this, you have made a valuable contribution to Aged Care.
Our Residents are very appreciative of this music. It becomes a reminiscing tool as well as a very enjoyable experience for them to listen, dance or sing. The easy listening CD's provide perfect background music and enhance the quality of any other activity that is happening. Singa-long's happen spontaneously with a few dance steps here and there — to say nothing of the toe tapping!
This is music that our Residents relate to very easily. It reminds them of the old time Dances that they attended. The CD's are also very valuable as an alternative when obstacles present themselves for other activities or entertainment.
The set of twelve CD's is a valuable resource for any aged care facility and we have no hesitation in recommending them.
Yours sincerely,
Sister Rosemary lsp
Diversional Therapist, Little Sisters of the Poor, Northcote, Victoria.