TESTIMONIAL
Printed with permission. Some information has been blanked out for security purposes.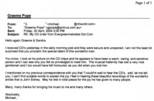 30th April 2004
From Manchester, UK
Hello again Graeme & Sandra,
I received CD's yesterday in the early morning post and they were secure and unopened. I am not the least bit surprised that you proclaim the special talent of this wonderful man.
You know, I look at his picture on the CD inlays and he appears to have been a warm, caring, and sensitive person and I can see why you felt so priviledged to meet him. The musical fraternity has lost a very nice gentleman and I too would have felt honoured, as you did when you met him.
I mentioned on my previous correspondence with you that I couldn't wait to hear the CD's, well, let me tell you; I can't find suitable words to explain the joy I feel in hearing these beautiful recordings of the wonderful artist that is John Sidney. May he rest in total peace for the joy he has given to many people.
Many, many thanks for bringing his music to me and many others.
Absolutely,
Michael.