TESTIMONIAL
Some information has been blanked out for security purposes.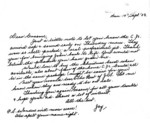 14th September 2003
From Hobart, Tasmania, Australia
Dear Graeme,
Just a little note to let you know the CDs arrived safe and sound early on Thursday morn. They were so well packed; a real professional job. Thank you for bringing John back to life. You would not believe the pleasure you have given me.
Would love to buy the Christmas Carol when available; also about four of the home CDs. Could all be in the same package (might be easier for you)?
Next year would love The Best Of John Sidney. Let me know when they are ready to be on sale.
Thanking you again Graeme for all your trouble and hope your ad shows a lot of interest.
All the best.
Joy
PS Wonders will never cease! I've spelt your name right.