TESTIMONIAL
Published with permission. Some information has been blanked out for security purposes.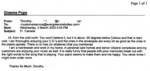 5th March 2003
From Canada
Hi, from the cold north. You won't believe it, but it is about -30 degrees below Celsius and that is darn cold. I am thoroughly enjoying your CDs and the ones in the envelopes are every bit as good as the ones in the plastic jackets. There is no hiss (or whatever) that you mentioned.
I am a hairdresser and work in my home, in personal care homes and senior citizens complexes and my customers are enjoying your music as well. It is really funny that people with poor memories break out with the right words to the song that is playing. Your piano seems to make them and me happy. You never know I might even order more.
Thanks so much. Dorothy