TESTIMONIAL
Printed with permission. Some information has been blanked out for security purposes.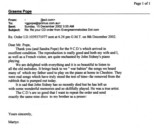 15th December 2002
From East Anglia, UK
Dear Mr. Pope,
Thank you (and Sandra Pope) for the 9 C.D.'s which arrived in excellent condition. The reproduction is really good and both my wife and I, as well as a french visitor, are quite enchanted by John Sidney's piano playing.
We are delighted with everything and it is so beautiful to listen to all the old melodies. It brings back to we "war babies" the songs we heard many of which my father used to play on the piano at home in Cheshire. They were real songs which have truly stood the test of time - far removed from the rubbish that is pumped out today.
It is sad that John Sidney has so recently died but he has left us with some wonderful memories and so skillfully played. He was a true artist.
The C.D.'s are so good that I want to repeat the order and send exactly the same nine discs to my brother as a present .........
Yours sincerely,
Martyn