TESTIMONIAL
Published with permission. Some information has been blanked out for security purposes.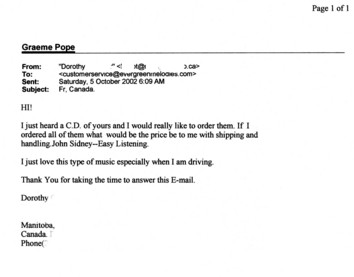 5th October 2002
From Manitoba, Canada
HI!
I just heard a C.D. of yours and I would really like to order them. If I ordered all of them what would be the price be to me with shipping and handling. John Sidney--Easy Listening.

I just love this type of music especially when I am driving.

Thank You for taking the time to answer this E-mail.

Dorothy .........
Manitoba, Canada.
Phone(...) ........ R0K 1P0