Tassie TV Pioneer And Kid's Show King Dies
12th November 2002
The following article appeared in todays MERCURY newspaper.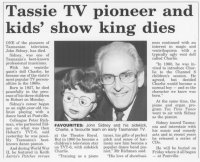 CLICK ON PICTURE FOR ENLARGED VIEW
One of the pioneers of Tasmanian television, John Sidney, has died.

Sidney, was one of Tasmania's best-known professional musicians.

With his ventriloquist's doll Charlie, he became one of the state's most popular TV personalities in the 1960s.

Born in 1927, he died peacefully in the presence of his three children in Hobart on Monday.

Sidney's career began as an eight-year-old violinist playing with a dance band at Pontville.

Colleagues Peter Richman, who partnered Sidney on what was then Hobart's TVT-6, said yesterday he was possibly Tasmania's best known dance pianist.

And during World war II, he featured in Keith Jarvis's Patches revues at the Theatre Royal. But in 1960 he became a children's television star on TVT-6, with sidekick Charlie.

"Training as a piano tuner, his gifts of perfect pitch and sense of harmony saw him become a popular dance pianist," Mr Richman said.

"His love of show business continued with an interest in magic and ventriloquism with a typically ugly vent doll called Charlie.

"In 1960, he was invited to introduce Charlie to the Channel 6 children's session. He agreed, but decided Charlie would become a normal boy - and so the character we know was born."

At the same time, the piano and organ program Tea Time Tunes went to air with Sidney as the pianist.

Sidney toured Tasmania and interstate with his magic and comedy acts and in recent years released a series of CDs.

He will be buried on Friday where it all began - at Pontville.