AGED CARE MUSICAL RESOURCES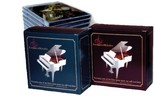 BOX SET OF 12 JOHN SIDNEY PIANO MUSIC CDS
For the elderly living in care, familiar melodies can be vital links to the past capable of rekindling precious memories and creating feelings of joy, connection and relaxation, even in those with dementia.
Realising the relevance of John Sidney's music for the elderly, diversional therapist Ann Rogers incorporated John's music into two aged care resources:

REMEMBER THAT SONG is a musical and mental stimulation programme originally designed for clients with dementia. Its popularity within aged care, however, has demonstrated the programme's suitability for clients at all levels of aged care and this prompted a redesign and subsequent re-release. Click here for more information about our wonderful musical quiz programmes.

SHALL WE DANCE is a dance programme designed for seated clients and it is the latest addition in a collection of musical activity programmes Ann has written. The full programme runs for about 30 minutes. It involves a variety of activities and can be a lot of fun for those participating.

HOW TO PURCHASE AGED CARE MUSIC RESOURCE PROGRAMMES
The Aged Care Musical Programmes can be purchased online at our shopping cart or you can download and print the following order form/s:

Music Resources Order Form (104.99 Kb)

Music Resources Packages Order Form (99.16 Kb)
ALL PRICES INCLUDE FREE POSTAGE AND HANDLING TO ANYWHERE IN THE WORLD!